The Louis-Hippolyte-La Fontaine bridge-tunnel, which opened in 1967, is an important road link for the region, Québec and Canada, for the transportation of people and goods. The bridge-tunnel is an integral part of autoroute 25 and links the island of Montréal and Longueuil via île Charron.
The ministère des Transport is currently planning major repairs to the Louis-Hippolyte-La Fontaine tunnel in order to ensure its durability and maintain its essential role in the mobility of people and goods through autoroute 20 and autoroute 25.
Considering the scope of the work, there will be impacts on traffic. This is why the Ministère and its partners will implement new public transit infrastructures as part of the project.
Additions to the public transit infrastructure
These measures consist in 25 km of preferential measures for buses and 850 additional spaces in park-and-ride facilities.
Construction of a reserved lane for buses and carpooling on autoroute 20 toward Montréal, between chemin du Fer-à-Cheval in Sainte-Julie and route 132 in Boucherville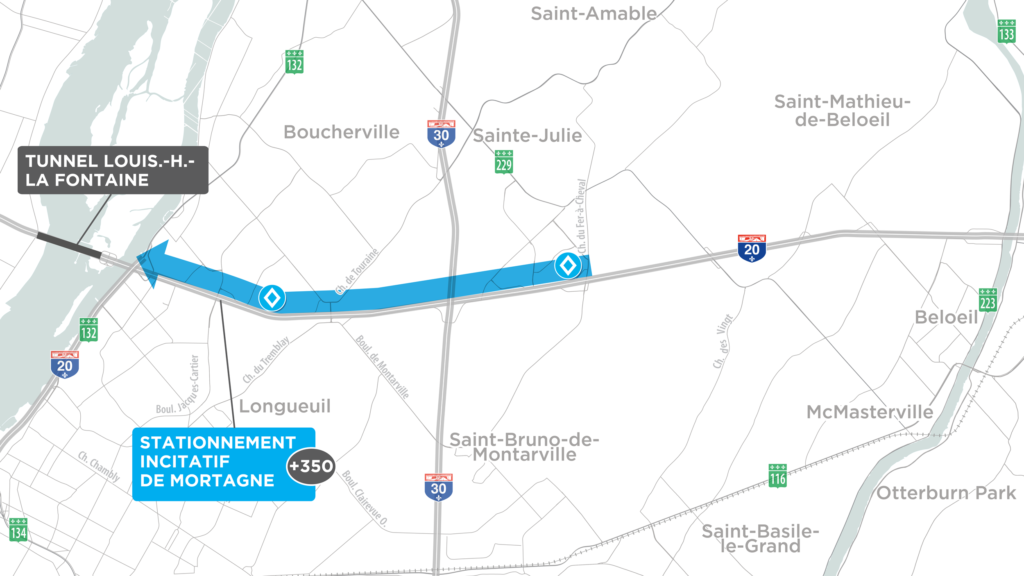 Development of a bus lane on the shoulder of autoroute 20 toward Montréal, between rivière Richelieu and chemin du Fer-à-Cheval in Sainte-Julie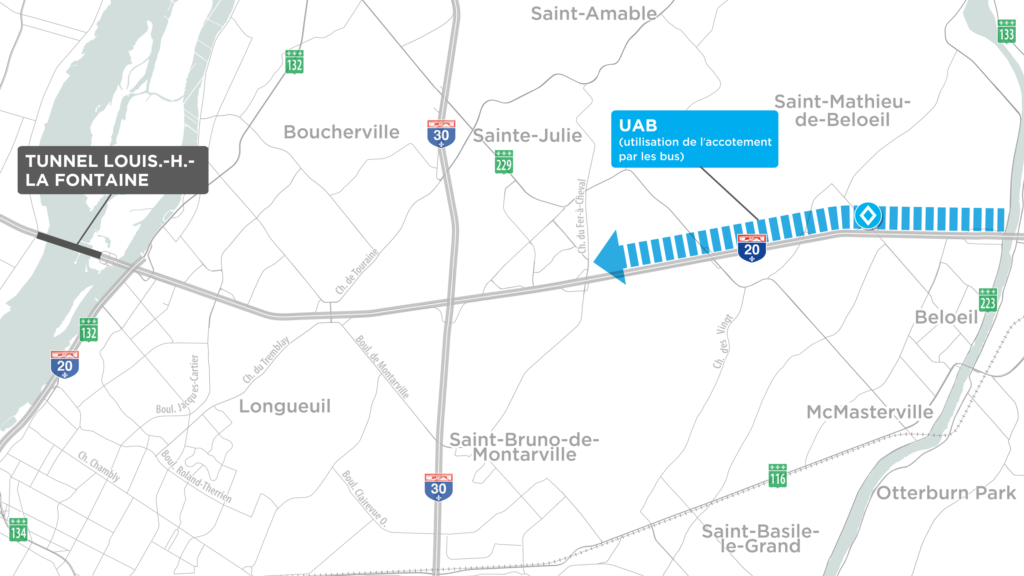 Additional bus platforms at the Radisson metro station, in Montréal
Reconstruction of a bus platform at the park-and-ride facility of Sainte-Julie
Additional public transit services
Complementary public transit services were also planned in the area of the Samuel-De Champlain bridge and on the yellow metro line. This will enhance current services based on the progress of the work.
More details on bus routes and schedules will be available before the implementation of these measures.
Improvement of the Réseau de transport de Longueuil (RTL) bus line 61, which links Boucherville and Montréal
Improvement of the metro service (green, yellow and orange lines)
Improvement of 3 RTL shared taxi lines in the Boucherville industrial park
Addition of 4 new bus lines linking the metro to 5 park-and-ride facilities on the South Shore (De Touraine, Varennes, De Mortagne, Sainte-Julie and Belœil)
Implementation of a river shuttle between the South Shore and Montréal