Mobility Montréal partners acknowledge the postponement of the mont Royal tunnel closure announced today by CDPQ Infra, and wish to inform users that the implementation of all mitigation measures have been postponed to March 30, 2020.
Mobility Montréal partners also received confirmation from CDPQ Infra that this postponement will not increase the expected duration of the work in the mont Royal tunnel, which will last a maximum of 24 months.
Train service on exo6 Deux-Montagnes and exo5 Mascouche lines will continue until the closure of the tunnel, now scheduled for next spring. Train schedules as of January 6 will be identical to fall 2019 schedules.
By March 30, all Mobility Montréal partners, in cooperation with the municipalities and boroughs concerned, will continue their efforts to coordinate the mitigation measures. Mobility Montréal and its partners will also keep users informed of the most recent developments regarding REM mitigation measures.
Fare measures
The fare measures announced by Mobility Montréal on September 9, 2019, are maintained and enhanced. Five free monthly transit fares will be offered to subscribers who registered to the 2020 fare measure of the exo6 Deux-Montagnes line before December 10, 2019.
Users who could not register to the 2020 fare measure before December 10, 2019, and wish to benefit from the five free monthly transit fares can subscribe to OPUS+ or OPUS+ entreprise by July 10, 2020. Meanwhile, they have access to a 30% discount on their TRAIN or TRAM transit fare from January to March 2020.
These enhanced fare measures for users of the exo6 Deux-Montagnes line, which include an additional free monthly transit fare and a 30% discount, will be funded by CDPQ Infra.
Regarding users of the exo5 Mascouche line, no change is made to the fare measure announced on September 9, 2019, which is a discount of up to 30% on monthly TRAIN and TRAM transit fares applicable as of January 2020.
Deux-Montagnes line users (exo6)
These measures apply to users of the exo6 Deux-Montagnes line who were registered to the 2018-2019 as of September 8, 2019.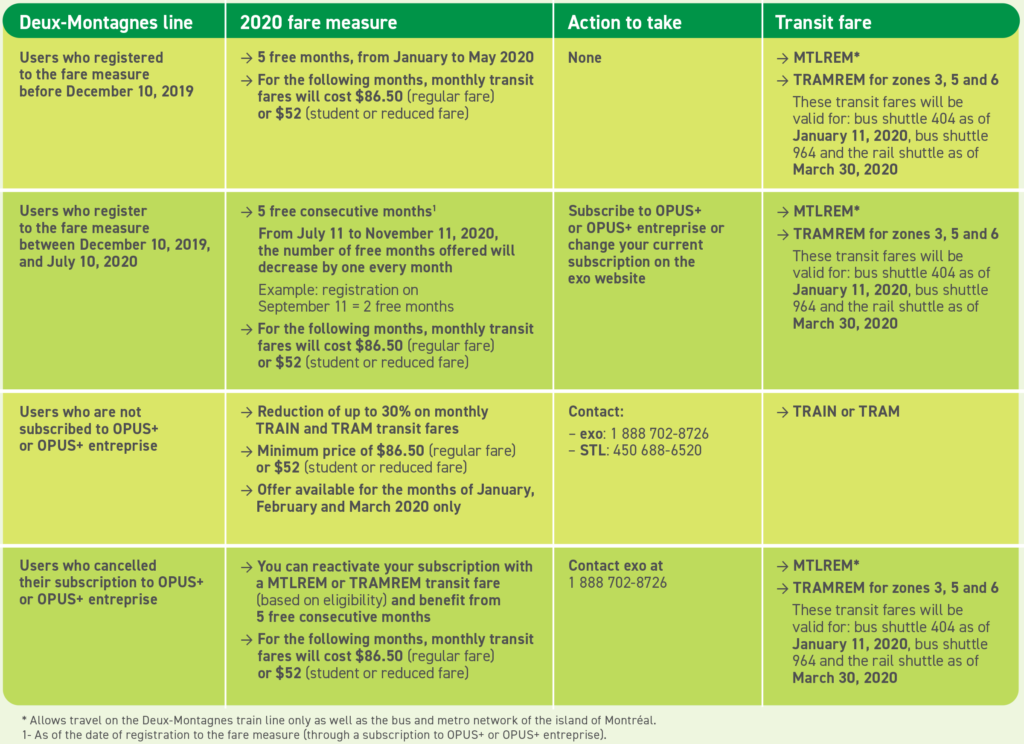 Mascouche line users (exo5)