Chemin Oka will be completely closed between 11e Avenue and 12e Avenue due to work of the Réseau express métropolitain (REM) to build a new railway bridge.
The closure will be effective until summer 2022 and will impact the routes of exo shuttles 904 (weekdays) and 404 (weekends).
The changes will take effect as soon as chemin d'Oka is closed, on November 24*. Shuttle schedules will be adjusted to take the new route and the two new stops into account.
The detour route will include 20e Avenue, boulevard du Lac, 8e Avenue, a section of chemin d'Oka, 11e Avenue and rue Henri-Dunant (see plan below). Three stops will be available on the detour route:
20e Avenue/chemin d'Oka
boulevard du Lac/8e Avenue (former Grand-Moulin station)
chemin d'Oka/Holy Family church.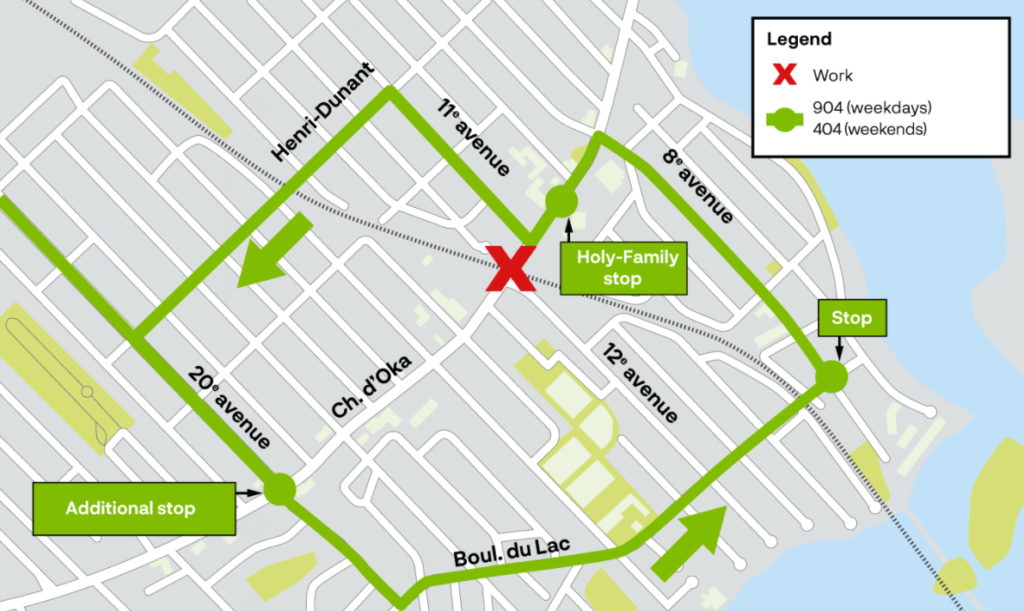 Mitigation measures have been implemented during the construction of the REM. The exo6 Deux-Montagnes commuter train line has been interrupted since May 11, 2020 due to the work. Visit the Info mobility REM section for more information.
*The date could be changed according to the work carried out in the area.